Peter Gadsby HonDBA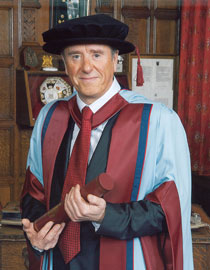 Peter Gadsby
E: peter.gadsby@arkcapital.co.uk
T: 01332 226680
Click here to download my details
Peter is one of the property industry's best known figures and in 2008 was named Property Week's Midlands Property Personality Of The Year. His distinguished and successful career spans more than 30 years and includes some of the most successful companies in the region.
Starting out in his home town of Ashbourne, Derbyshire, Peter rapidly grew a number of development and housing companies and was involved in the acquisition of Raine Industries Plc in the mid 1980s.
He went on to form Birch Group Plc, which at its height had a turnover of £100m. In 2000 Peter sold Birch to the UK's largest private property company, The Miller Group in a transaction valued at £35m. As part of the deal the two companies formed Miller Birch, a 50:50 joint venture to develop the ng² business park in Nottingham and various other residential and commercial property sites. ng² has since become one of the most successful commercial property developments in the Midlands.
In 2004 Peter acquired residential house builder Radleigh Group and placed it, together with his family's existing property interests, Cedar House and Miller Birch, into a new holding company, Ark Capital.
Ark Capital, of which he is Chairman and major shareholder, has become Peter's main holding company, although he continues to control a number of investment properties through the Ark Capital Pension Fund and Limited Liability Partnerships.
Peter's achievements have been recognised by the University of Derby with the award of an Honorary Doctorate of Business Administration.